Overview
ENHANCE YOUR FLYING EXPERIENCE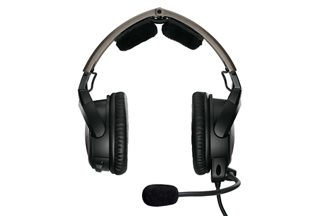 Clear audio
with active equalisation

Comfortable, stable fit
30% less clamping force than conventional aviation headsets.
Acclaimed noise reduction
30% greater active noise reduction than conventional aviation headsets.
Bluetooth® audio and communications interface
For connectivity with your communications and navigation devices.

High-performance microphone
For clear outgoing transmissions.
Enjoy a peaceful, comfortable flight



The A20® headset gives you 30% greater noise reduction than conventional aviation headsets, so you'll enjoy a peaceful flight from short stops to long hauls. And weighing just 340 g, with sheepskin cushions and minimal clamping force, it's one of the lightest and most comfortable aviation headsets you'll find. All designed to let you focus on what matters—flying.

Simple, intuitive operation



The ergonomic control module includes an auxiliary audio input with intercom/Aux priority switching, ideal for dedicated GPS and traffic warning systems. It also features a customisable audio prioritisation control with "mute" and "mix" settings, and flexible power circuitry with auto-on that switches to and from battery power and aircraft power. Selected models also include Bluetooth connectivity for taking calls or listening to music.

For all types of aircraft
The A20® Aviation Headset is available in dual-plug, 6-pin plug and U174 plug models and a variety of configurations designed for use in all types of general aviation aircraft, including helicopters.

ACCLAIMED NOISE REDUCTION
30% greater active noise reduction than conventional aviation headsets.


30% less clamping force than conventional aviation headsets.

ACTIVE EQUALISATION FOR ENHANCED AUDIO
Automatically shapes and equalises incoming signals for enhanced clarity and intelligibility.


Wirelessly connect to your Bluetooth-enabled devices.


CUSTOMISABLE AUDIO PRIORITISATION
Choose "mute" to immediately mute an auxiliary audio signal when receiving a communication. Choose "mix" to mix in-bound communication with your Bluetooth or plugged in audio signal.


Certified to FAA TSO and E/TSO-C139 standards.


Connect the mic to either the left or right earcup.


From just two AA batteries.

An aviation headset that's just your type

Now there's also a Bose headset for the whole spectrum, from the single engine cockpit to the airliner flight deck.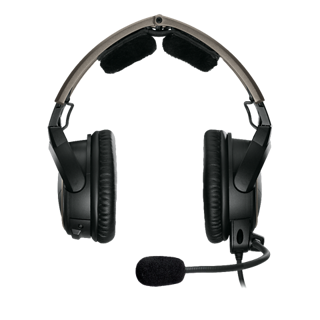 Around-ear configuration for higher-noise environments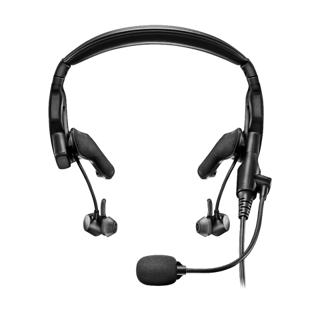 NEW PROFLIGHT SERIES 2 AVIATION HEADSET

In-ear configuration for pilots of moderately noisy aircraft, such as pressurised jets.

SHARE WITH US
#BoseA20
Fly with the A20 and share your photos with us for a chance to have them featured here. Share your photos on Instagram with #BoseA20 and tag @boseaviation.

Specs
Dimensions/weight
A20 Aviation Headset:

21.4 cm H x 16.1 cm W x 8 cm D (340 g)
WHAT'S IN THE BOX?
A20 Aviation Headset

In-line clothing clip

Control module

Two AA batteries

Aux-in cable adapter

Carrying case
FAQs
What makes the A20 Aviation Headset different from other products on the market?
The A20® headset offers an unmatched combination of clear audio, noise reduction and comfort, combined with the advanced features that pilots value, such as Bluetooth® audio streaming, customisable audio prioritisation, auto-on (selected models) and smart shutoff. In addition, Bose has significant experience engineering mission-critical communication headsets used in a variety of applications, including unique headsets for military air and ground operations, the NFL and consumers worldwide. Bose was the first company to introduce commercially available, active noise reduction headsets to the market and has over 25 years of experience providing headsets for critical communications globally, with 16 service centres worldwide.
Can I listen to music or other audio wirelessly via Bluetooth®?
Yes, the Bluetooth® music experience is the best way to listen to music wirelessly and provides Bose® quality sound. You can also stream warnings and alerts from your favourite apps. In addition, the A20 headset also has other Bluetooth® profiles, including hands-free calling and multi-point, which allows you to connect to more than one wireless device simultaneously.
Do I need to do anything to optimise the performance of my headset?
No. The headset constantly adjusts to the noise environment and automatically optimises the performance it delivers.
Why is TSO important?
A Technical Standard Order (TSO) is a minimum performance standard for specified materials, parts and appliances used on civil aircraft. When a company is authorised to manufacture a material, part or appliances to a TSO standard, this is referred to as TSO authorisation. When a company receives a TSO authorisation, it is assured that the product meets these minimums in both design and production. Bose Corporation meets all and exceeds many TSO requirements.
Can I comfortably wear eyeglasses and hats with the A20 headset without impacting the headset's performance?
Yes. The earcups' supple leather-covered foam cushions are designed to provide an effective acoustic seal even over glasses. You should be able to wear your glasses comfortably without significantly diminishing the headset's noise reduction benefits. There is no need to calibrate or recalibrate the headset to maintain optimal performance. The headset adjusts automatically.
Does the A20 headset have auto-on or auto-off capability?
Yes, the aircraft powered version of the A20 headset has both auto-on and auto-off capability, so when the avionics have been turned on, the headset will turn on automatically once aircraft power is detected. Battery-powered versions of the headset have auto-off, but require that you press the power button to turn on the headset.
Can I convert my 6-pin plug headset?
Adapters are available from Bose to convert a 6-pin connector to either a dual G/A plug or a U174 for additional connection flexibility.
Can I switch the boom microphone from the left-hand side to the right-hand side?
Yes. The boom mic can easily be swapped from the left- to right-hand side (or vice versa) by unscrewing two screws and repositioning the mic onto the desired earcup.
Are original Aviation Headset X® accessories compatible with the Bose A20 headset?
Not really. While these cushions and parts may be forced onto the A20 Aviation Headset, they have not been designed or implemented for this product.